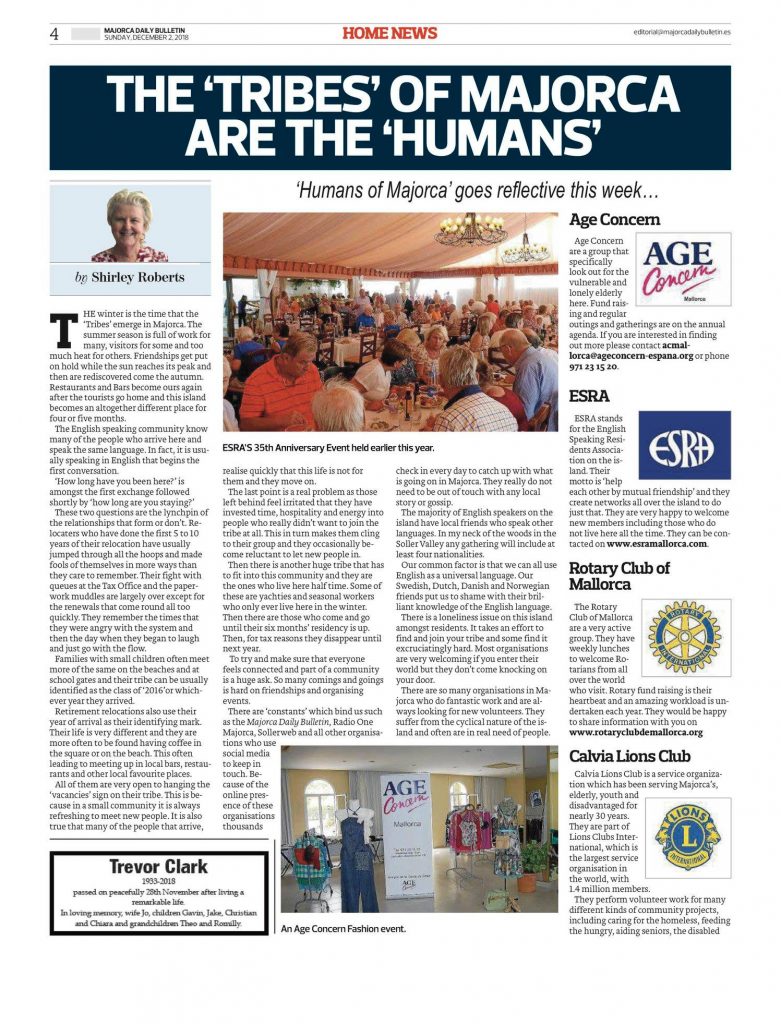 The 'Tribes' of Majorca are the 'Humans'
'Humans of Majorca' goes reflective this week…
The winter is the time that the 'Tribes' emerge in Majorca. The summer season is full of work for many, visitors for some and too much heat for others. Friendships get put on hold while the sun reaches its peak and then are rediscovered come the autumn. Restaurants and Bars become ours again after the tourists go home and this island becomes an altogether different place for four or five months.
The English speaking community know many of the people who arrive here and speak the same language. In fact, it is usually speaking in English that begins the first conversation.
'How long have you been here?' is amongst the first exchange followed shortly by 'how long are you staying?'
These two questions are the lynchpin of the relationships that form or don't. Re-locaters who have done the first 5 to 10 years of their relocation have usually jumped through all the hoops and made fools of themselves in more ways than they care to remember. Their fight with queues at the Tax Office and the paperwork muddles are largely over except for the renewals that come round all too quickly. They remember the times that they were angry with the system and then the day when they began to laugh and just go with the flow.
Families with small children often meet more of the same on the beaches and at school gates and their tribe can be usually identified as the class of '2016'or whichever year they arrived.
Retirement relocations also use their year of arrival as their identifying mark. Their life is very different and they are more often to be found having coffee in the square or on the beach. This often leading to meeting up in local bars, restaurants and other local favourite places.
All of them are very open to hanging the 'vacancies' sign on their tribe. This is because in a small community it is always refreshing to meet new people. It is also true that many of the people that arrive, realise quickly that this life is not for them and they move on.
The last point is a real problem as those left behind feel irritated that they have invested time, hospitality and energy into people who really didn't want to join the tribe at all. This in turn makes them cling to their group and they occasionally become reluctant to let new people in.
Then there is another huge tribe that has to fit into this community and they are the ones who live here half time. Some of these are yachties and seasonal workers who only ever live here in the winter. Then there are those who come and go until their six months' residency is up. Then, for tax reasons they disappear until next year.
To try and make sure that everyone feels connected and part of a community is a huge ask. So many comings and goings is hard on friendships and organising events. There are 'constants' which bind us such as the Majorca Daily Bulletin, Radio One Majorca, Sollerweb and all other organisations who use social media to keep in touch. Because of the online presence of these organisations thousands check in every day to catch up with what is going on in Majorca.  They really do not need to be out of touch with any local story or gossip.
The majority of English speakers on the island have local friends who speak other languages. In my neck of the woods in the Soller Valley any gathering will include at least four nationalities. Our common factor is that we can all use English as a universal language. Our Swedish, Dutch, Danish and Norwegian friends put us to shame with their brilliant knowledge of the English language.
There is a loneliness issue on this island amongst residents. It takes an effort to find and join your tribe and some find it excruciatingly hard. Most organisations are very welcoming if you enter their world but they don't come knocking on your door.
There are so many organisations in Majorca who do fantastic work and are always looking for new volunteers. They suffer from the cyclical nature of the island and often are in real need of people.
Age Concern are a group that specifically look out for the vulnerable and lonely elderly here. Fund raising and regular outings and gatherings are on the annual agenda. If you are interested in finding out more please contact acmallorca@ageconcern-espana.org or phone 971 23 15 20.
ESRA stands for the English Speaking Residents Association on the island. Their motto is 'help each other by mutual friendship' and they create networks all over the island to do just that. They are very happy to welcome new members including those who do not live here all the time. They can be contacted on www.esramallorca.com.
The Rotary Club of Mallorca are a very active group. They have weekly lunches to welcome Rotarians from all over the world who visit. Rotary fund raising is their heartbeat and an amazing workload is undertaken each year. They would be happy to share information with you on www.rotaryclubdemallorca.org
Calvia Lions Club is a service organization which has been serving Mallorca's, elderly, youth and disadvantaged for nearly 30 years. They are part of Lions Clubs International, which is the largest service organisation in the world, with 1.4 million members.
They perform volunteer work for many different kinds of community projects, including caring for the homeless, feeding the hungry, aiding seniors, the disabled and the environment. Among the many other causes we help, are the lonely, the needy, the youth. We hold monthly Diabetic Testing, collect used spectacles to help eradicate preventable blindness, provide musical therapists at Son Espases Hospital for ill children, provide Guide Dogs for the blind and much more. Everywhere we work, we make friends.
Their main income is from the Charity Shop based in Palmanova and staffed by volunteers. Besides the shop income, Lions have many social events to raise money, which is part of the fun side of being a Calvia Lion. All money raised stays in Mallorca and is spent on mainly Spanish people and donated to Spanish organisations. For more information email president@mallorcalions.org
The Cancer Support Group of Mallorca is very active in supporting people through their illness. Their volunteers spend time in the Shop, at the hospitals giving out information, fund raising in all major fairs and events on the island and much more. They offer translation services and accompany people on hospital visits to make sure they understand all that is going on. Their art classes and other fun activities are a lifeline to many. More information can be found on www.cancersupportmallorca.com.
I am glad to share a few of the organisations that would welcome your involvement. This list is not exhaustive and there are new groups springing up all over the island that do good works alongside having fun. Keep an eye out for the posters in your own local area
Every municipality in Mallorca has a charitable arm always looking for volunteers. The Red Cross, Caritas and the Social Services departments need time and effort from so many to continue their work. Don't let limited language skills put you off as the hand of friendship doesn't have to come with a fluency label.
When you make a decision to relocate and try your life in a new place it involves effort. Previous support systems are no longer there and it is really up to you to open the door on a brand new world. There are many ways to do this and I know that volunteering is not for everyone. To work out how you fit in to a community where 50% of the people are just like you – incomers, is what you have to work out. It takes effort to find your Mallorca tribe. The first step is the hardest and that is the one that opens your front door and gets you out there. The second step is a smile and an outstretched hand as we are Humans after all…