Ten years ago this month Earth Yoga arrived in Santa Catalina in Palma. A yoga studio containing the teaching talents of Sandra, Jay and Katya. They had a vision for the Santa Catalina barrio and enjoyed the existing vibe. There were plenty of people around contributing to the yoga and meditation world. Many discussions were held about the future of Yoga on the island and the part they wanted to play. The studio's classes grew and grew and the space was being used to its maximum every day. Eventually the time came when they knew they would have to move to accommodate their classes, and the visiting yogis who found a sympathetic home at Earth.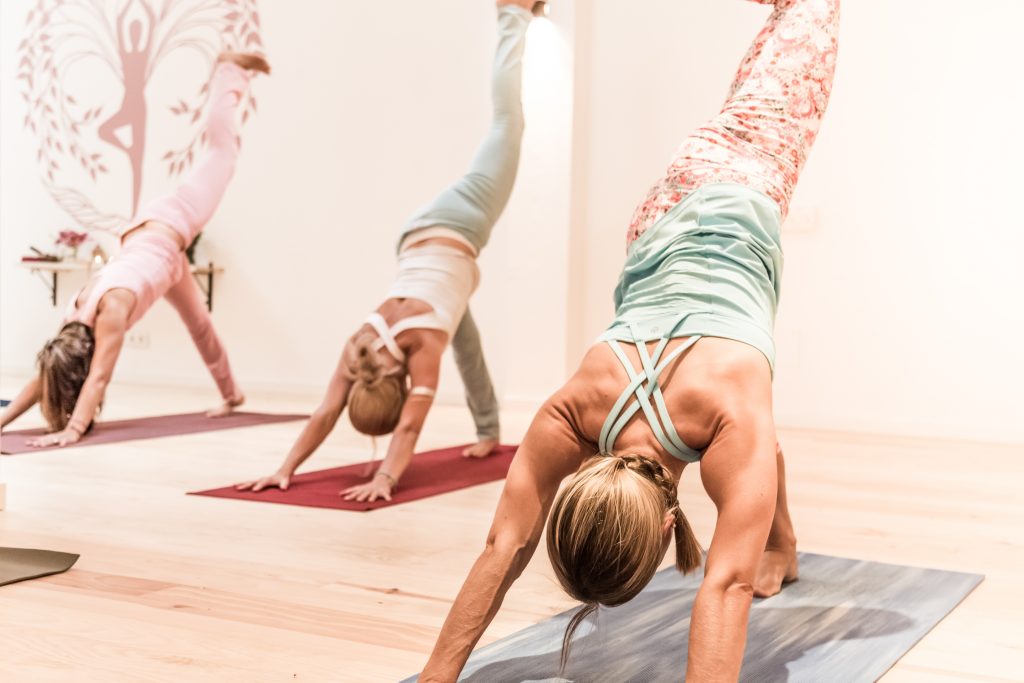 The phenomenon of the growth of Yoga worldwide is well catalogued. It is a form of exercise and relaxation that millions tap into each day. The list of what people get out of it goes something like this –
Release tension (54%)
Get stronger physically and mentally (52%)
Feel happier (43%)
Get more "me" time (27%)
Feel less lonely (21%)
Unplug from tech (20%)
Earth Yoga moved a few years ago to larger premises with two main studios in Carrier Despuig. This is still in the Santa Catalina zone but behind Placa Progresso. As they renovated the building to make it fit for their purpose others were watching. More yoga studios and related businesses have moved in and in 2019 the definition of the area as the 'Yoga Barrio' is commonplace. There are many forms of yoga and the specialists are all to be found in this street. This is alongside sports physiotherapists and alternative therapists. Healthy food and snacks are there in food outlets who are sympathetic to the work of the Barrio and the people who regularly attend the classes.
For some the travel to Palma, no matter how nice, is a drive too far. Katya set up a second Earth Yoga in the Sports Centre in Portals Nous – just a block up from Marineland. This space is also open every morning and has a dedicated following.
The ten-year anniversary is celebrated with more thoughts of the future. Larger premises and more expansion is one idea or the concentration on the other yoga developments on the island. As the ten years have moved on groups from other countries have come in and established residential courses for worldwide clients. Known as 'Ashrams' they are to be found in the Soller Valley, Cala Rajada and in the isolated centres of the island. The Ashram is multifaceted but the daily practice of yoga is a given. The Earth Yoga teachers are big participants in this movement.
Then there are those who wish to be in tune with the Arcadian rhythms of the day. This is why you will find the highly sought after yoga teachers of Majorca in their cars at 5 am driving to isolated fincas for sunrise yoga. Sunrise, sunset, paddle board, roof top, beach and so many more venues are used to get the best yoga experience in tune with the sun and the weather.
Yoga is an age old practice with movements and experiences that will not change. There are however, those who would like to add something 2019 to the experience and the list on offer in some studios includes laughter yoga. Others are experimenting with silent disco yoga, aerial yoga, beer yoga, and naked yoga.
Earth Yoga has a revolving door in sequence with the life of Majorca. Yachties, on land for a while are huge users of the space. Incomers to Majorca find their first friends here. Mum's bring their babies for baby listening and music sessions with yoga for them. Men's yoga lags behind women and a big drive has been made by Earth to change all that. Men are welcome to leave their shoes at the door just like everyone else.
The stories of the Humans of Majorca who make Earth Yoga happen every day are right here –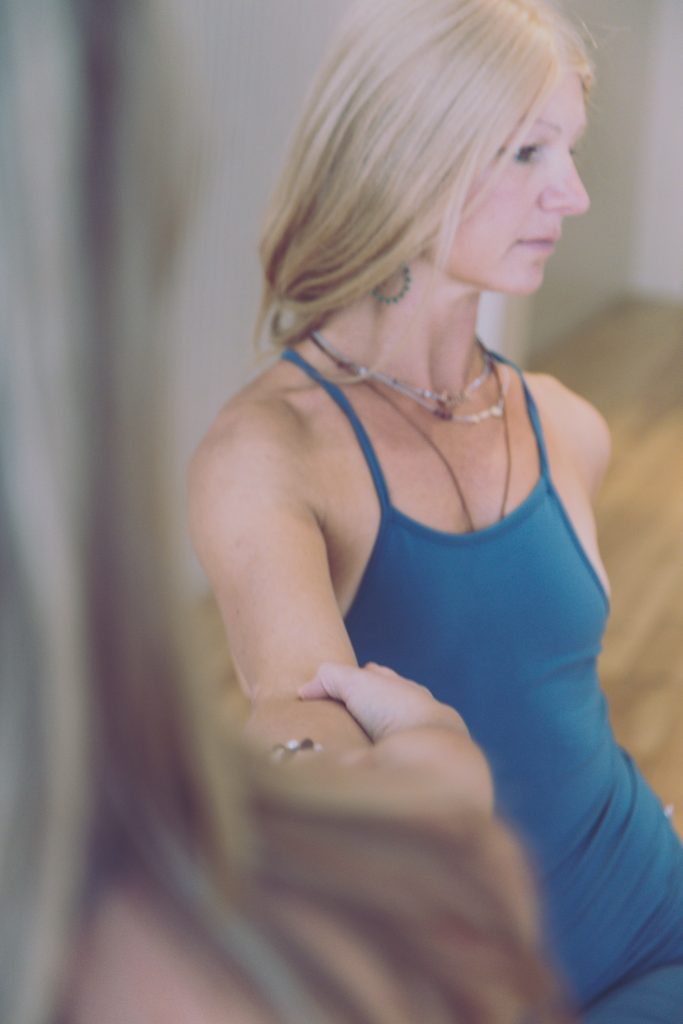 Sandra from Sweden had a huge affinity with Majorca when she arrived to give her children their idyllic early childhood on our island. Family connections meant that she too spent happy years between Sweden and the Soller Valley. Her early yoga training tapped into the consciousness of many and she found she was giving so many private lessons that it was time to open a studio.
Sandra started practicing yoga in 1999 when she was living in New York City and her passion for yoga and its philosophy has grown ever since. She now is a teacher of students who wish to become teachers using the Yoga Works teacher training programme. She teaches mostly Vinyasa Flow which is a dynamic form of yoga that integrates movement and breath. The practice creates heat and self-awareness in the body through conscious movement and is a blend of Lyengar, Astanga and Pranyama.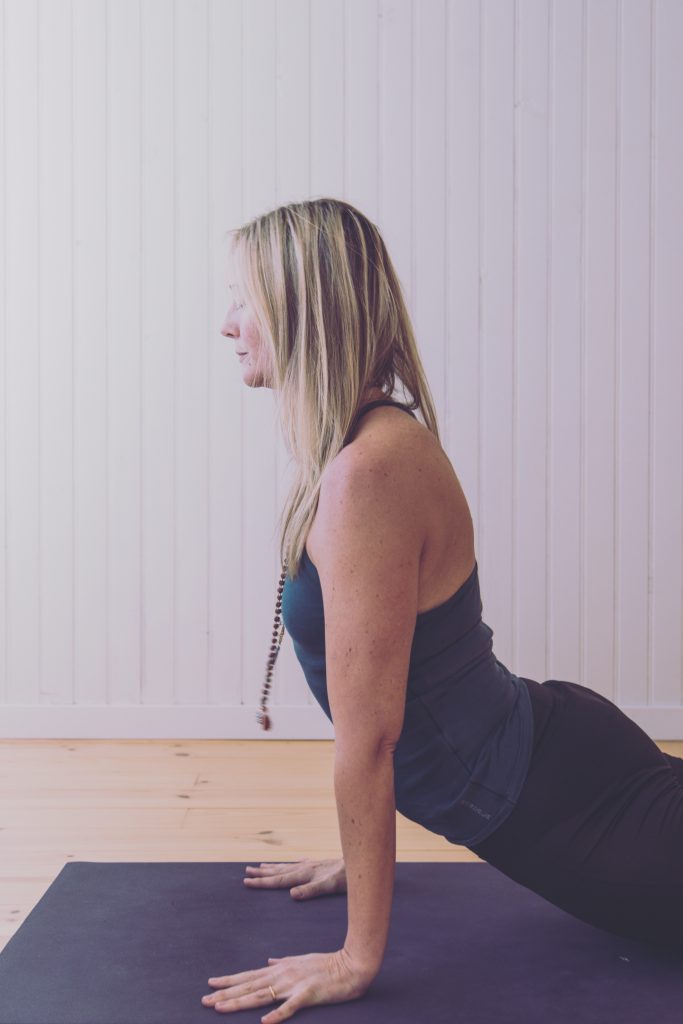 Jay was an early pupil of Sandra before she too did the intensive training required to be a yoga teacher. This training is no easy task and hundreds of hours over 3 years was the course that had to be completed. Together with the teaching skills Jay is the organizer of the studio and keeps the show on the road. Jay is another Soller person. She relocated from London fifteen years ago. Husband and three daughters complete her home team. All of them have been brought into the Earth Yoga world in one way or another. Ask Matthew about his guitar playing for various yoga events…
Jay embraces the place that Earth Yoga has in Palma amongst the Barrio of faithful clients. She is delighted by the yoga community she works amongst every day.

Katja has been practising Yoga since 2001. Teacher training took her to courses in Majorca and Bali. Originally from Germany where she worked in the fitness industry and taught workout and stretching classes.
The combination of this and her complete dedication to Yoga, has made Katja a well-rounded and knowledgeable teacher. She fully understands the benefits of Yoga and what it brings to body, mind and soul… Her classes focus on safe, accurate posturing with a fun and energetic Vinyasa flow.

Her curiosity for the human mind and nature has also led her to branch out as a certified psychological coach.

Her philosophy is to not strive for perfection, but to strive for inner peace and wholeness. She strongly holds that body mind and soul are not three separate concepts but are intricately linked and thus interdependent parts of one whole. Her classes mirror this concept, reminding one that it is not about whether or not you can reach your toes, but about the journey there.

These three women are supported by many teachers who are resident in Majorca and many others who are visiting gurus. There is no limit here or desire to restrict the experience of the learning. Some of the most famous and followed yoga teachers of the world have held classes in Earth Yoga. They recognize what it strives to be and want to be part of the future of the Earth Yoga of the Palma Yoga Barrio.
Happy Birthday Earth Yoga.