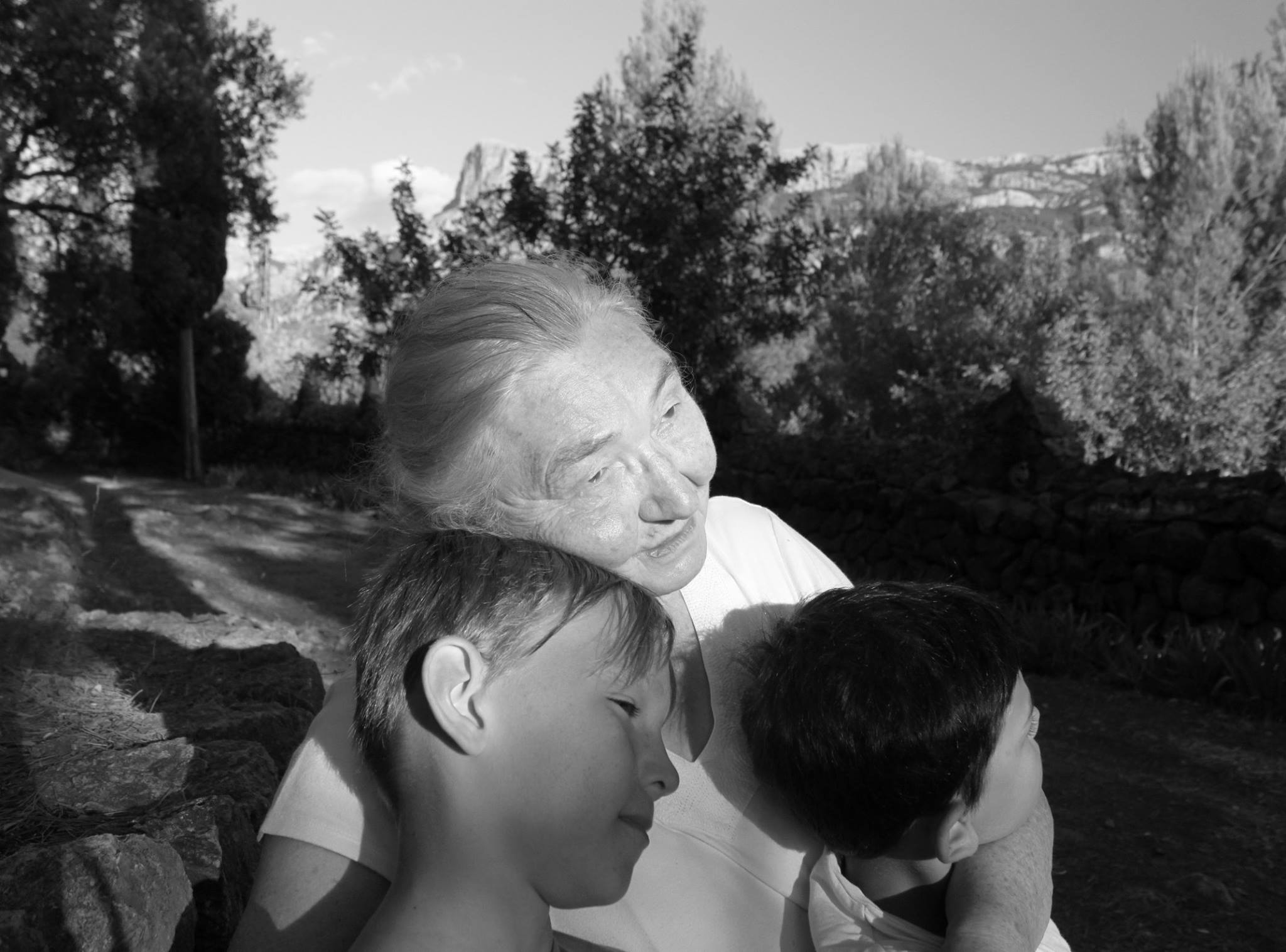 Our Humans of Majorca today starts with life in Liverpool in the 1940's. Audrey and William represented the opportunities that the grammar school children of the era had. Accrington Girls High School for Audrey and the Liverpool Institute for William. This highly academic couple came from the cotton mills and the working background of the area. The war dominated their lives in early times and William did his bit for war effort locally until he was old enough to join the Marines. His language ability, particularly in German, marked him out to be an important asset and India and Hong Kong were amongst many places he was stationed. A bout of scribtypus caught from lice gave him 6 months in hospital and then for him the war was over.
His early studying took him to Cambridge and then to Liverpool University which is where Audrey was studying for a Botany honours degree. This was the backdrop to their lives. The hallowed halls of academia were open to them and the many young men who had been officers in the war and then returned to finish their education. This huge working area produced some of the finest minds of their generation. The key to it all was getting into a grammar school and then rejecting the 'trade' of the area for academic life.
So it was that this lovely story began with walking holidays, travelling the country on barges, avidly watching the cinema of the time and the theatre of Liverpool. Audrey finished her time at the University of Liverpool before studying Teaching in Cambridge for a further year. Four year courses, university life and halls of residence and their traditions were the backdrop to this couples lives. This is something they appreciated very much because it was not the usual opportunity for the young people of the time. The mills, factories and lack of money sent most to work from an early age to help support their families.
Life moved on and they both worked in their chosen professions. William became the lecturer in German literature at Liverpool University and stayed there until he retired. Educating the young, many of whom came from Liverpool, was his lifelong passion. Audrey taught for five years at the Belvedere Girls Public Day School Trust, also locally. They lived the Liverpool life until their own family began to appear and then it was off to Formby to the new houses in an expanding area by the sea.
They settled into the area and their family grew to, three children. Audrey lived a busy family life encouraging her children and their friends to do the best they could with their minds. Her return to work and elevation to the title 'Mrs Pepperpot' happened at this time. She had gone in to assist a local primary school with some voluntary teaching of reading. Her dormant teaching skills were resurrected and a much younger age group became her passion. This set the scene for Mrs Pepperpot of Formby, she is the revered teacher lady of the area that generations still remember. Mrs Pepperpot in fiction is a little old lady who shrinks to the size of the children she is talking to. A smiling face and hair in a bun is the badge of honour and soon the children in her care started calling her not Mrs Fox but Mrs Pepperpot and thus it has ever been.
Patrick, Anna and Rachel are Mrs P's children and all followed the academic route set out by their parents. Law, Engineering and Science were the the order of the day with careers to match. They enjoyed their lives with their interesting parents and the travels they all went on. Tents and travel round Europe are their memories. There was one country they never went to as their socialist principles kept them out of the Spain of the time. France, Italy and so much was there waiting to be discovered but, for them, not Spain.
Our Rachel discovered Majorca and love on her visit with her young son. She walked into Deia and knew this area was the place she wanted to be. Scientific life in the UK was not going to be replicated here and teaching in the International Schools of the island beckoned. Fast forward almost 16 years and she is a local entrepreneur with so many parts to the whole. She is a photographer of note publishing Soller scenes every week here in the Bulletin. She runs Rachel's Laundry in Soller and washes and irons for the masses with her great team. Curtains shortened or trousers taken up then Rachel is the place to go. In addition, her multi dimensional life is off the scale with the travels and adventures she has with her two sons. She, in many ways is replicating her own childhood with conversations and experiences with her boys. A house full of books and projects where schoolmates are always welcome and fed.
For Mrs Pepperpot the idea that Rachel had settled in Spain was a huge shock. The political memories of Franco's Spain were part of her consciousness. It was with some trepidation she came to see for herself when her youngest grandson was born here. That visit was the first of many and the people of the Valley took to Mrs Pepperpot big time. They loved to talk to her and swim with her, they knew she was something of a champion in her youth. The idea of a diving competition with an 85-year-old did not go unnoticed in these parts. She was often in the house when children plus friends returned from school. It is second nature to Majorca's children to greet Abuelas with kisses. Mrs P was smothered in kisses every day and she simply loved it.
Rachel is now working very hard to get Mrs Pepperpot to relocate. This place, where everyone knows her from young to old is beginning to get into her consciousness. Her husband never had the length of life to see the Spain that Rachel lives in but Mum has changed her view of present day politics here.
The interesting dynamic between these two 'Humans of Majorca' is the age old family dilemma. The war between academia and trade. The idea that her super intelligent daughter runs a laundry to make a living is a dilemma she wrestles with. Her world of books, poetry, photography, ideas and sharing information is the same as Rachel's but Mrs Pepperpot would never have taken in washing…
Who knows what the future will bring, it could well be that in her 90th year Majorca is the place to be with her family. She will be a welcome addition to the Abuelas who occupy such an important place in this society. As for Rachel more travels and adventures with her boys are on the horizon for this year. So much of her own childhood was idyllic and even though her independent streak broke through occasionally she can see the gift it gave her.
For these two to allow me a glimpse into what makes them human was a real treat. The pleasure was all mine…