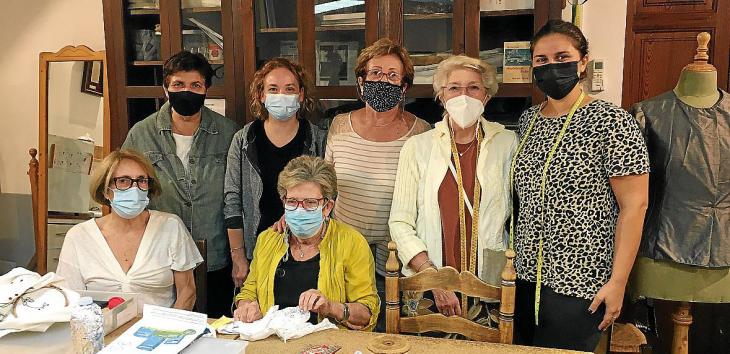 For many years now, Catalina Trías has been running a night-time sewing workshop in Sóller aimed at making peasant dresses.
An always full workshop. The participants in one of the night groups that started this month. From left to right: Trinidad Morell, Remedios Mas, Laura Rodríguez, Ángeles Muñoz, Francisca Rosselló, Catalina Trias and Bea Borràs. They are all very interested in learning the secrets of making traditional Majorcan costumes. | Lluc Garcia
Ultima Hora 18th October 2021
It's after 10 p.m. and the Can Dulce portal in Sóller, headquarters of the Associació Sollerica de Cultura Popular , is still wide open and with the lights on, but there doesn't seem to be anyone inside. However, in one of the rooms on the first floor of the house, you can hear a light conversation and the unmistakable sound of a sewing machine. Behind the door, from 9 at night to midnight, a group of women meet almost every day to learn the secrets of traditional sewing and to make the Mallorcan pagès or pagesa dresses that they or a family member will wear. during the holidays.
For many years, the sollerica Catalina Trías Nadal (Sóller, 1948) has been the teacher of this peculiar group of amateur seamstresses, or seamstresses, because from time to time "some man has also encouraged himself," explains Catalina while giving instructions to his 'students'. Although the sewing workshops have always been at night, this year for the first time she also leads a group in the afternoon, since due to the restrictions of the pandemic, "we cannot get together so many at the same time."
Five pieces
The day we visited the group, we found Bea, Trinidad, Remedios, Laura, Ángeles and Francisca at work, each one occupied in a different room. The work consists mainly of making pieces of country dresses, but some sew other garments. This day Mercedes is giving the last points to a gipó and Catalina shows us a ruffle made with a very old randa fabric, while Francisa chooses a fabric for some calçons amb buffets. There is work, since a women's dress is made up of five pieces. Usually they start to be sewn in October to have them ready in May, when the Fira is celebrated and there is a custom of dressing in the old fashioned way. During these nights they learn from the teacher, relax and have a good time. Catalina explains that in some years fifty people have passed through the course each week, and sometimes even more. He began to collaborate with the Associació Sollerica de Cultura Popular at the beginning of the 80s, since the entity wanted to promote a recovery of Mallorcan clothing.«Soon many people became interested in making their own pagès or pagesa dresses, both for adults and children. Some years the elected Valentes Dones have also signed up to make the dress that they had to wear for Sa Fira.
Bea Borràs, one of those who attend Catalina's workshop, was Valenta Dona a few years ago and for months, both she and her partner Mar Umbert made the suit for this important day. Catalina explains that most of them cannot sew the entire dress there, but "take homework to finish it, because it takes many hours of work." This year the Associació de Cultura Popular awarded Catalina Trías for her work.