Laurel Marx – Light needs shadow
Published in the Majorca Daily Bulletin September 2017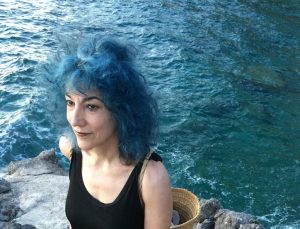 Laurel Marx is a native New Yorker with a Soller heart. In 1969 she spent a year in Deia studying Art and Creative writing with professors from Dowling college in New York.
This was at a time when Laurel was deciding which artistic path to pursue when she returned to New York to continue her education. Bob De Maria was the leader of the staff and was assisted for awhile by Luke Rhinehart of the 'Dice Man' fame. Laurel loved everything she experienced and learned in that year and in particular grew an affinity for Majorca which wasn't shared by all her classmates.
Deia at that time was a local mountain village with few amenities. Surrounded by the beauty of the mountains and with its own little beach it was paradise for Laurel. Intermittent electricity and simple living enhanced her experience and sent some of her classmates screaming for Palma and beyond. As an enthusiastic nineteen-year-old she sang the praises of Deia and the Soller Valley to her parents back in the USA. 'You must come and see this place that I have grown to love so much'. Laurel's Dad, Norman Holub was an academic and Professor of History at Dowling College. He had college holidays and after all he had heard from his daughter decided to come and see for himself. He told her to rent them a place for the summer so they could all see what she was so enthusiastic about.
Laurel was delighted to find that her parents fell in love with this place and loved everything about what they saw as much as she did. They all embraced the Soller Valley and all it had to offer their family. In fact, as the holiday weeks passed that family made a decision that they would buy a second home and it would be in Soller. On the day before they returned to the USA they bought a house opposite the Football ground in Soller which they all use to this day.
Over the years Norman Holub was the organiser of the Mediterranean Conferences and brought many people to Majorca to discuss the issues of the Mediterranean using an interdisciplinary approach. Four of these conferences took place in Soller with others in Palma. This became an annual event and it was orchestrated from Soller. Laurel's family introduction to this place brought mutual benefits, sound friendships and the development of interesting ideas for the future on a global scale.
As this world became the summer retreat Laurel was back in New York studying Fine Art and working with large scale collages. She was passionate about this work and gave her life and passion to it before beginning a shift into graphic design. There comes a point in life where one has to earn a living and this came for Laurel by using her talents to work on large scale design projects for the City of New York and many other places. Interpretive Signage systems became the work she became most known for and if you have walked the 15-mile Aqueduct walk which passes through New York City you will have learned all you need to know from the work of Laurel Marx.
Big community projects were to be the focus of Laurel's creativity for many years. She created her own company and worked to her own intensity and rules. One of which which was to clear the decks to spend long summers in Soller with her own daughter and husband. There are museums and structures in Majorca which benefitted from her summer sojourns. Interpretive signage is her testament and gift to many of Soller's prestigious buildings.
The need to work and create work on a vast scale left little time for Laurel's personal art. There was always a yearning to revisit her fine art days and see where it led. This was to revisit where she started in Fine Art whilst allowing for evolution. No-one stands still in life and Laurel needed to follow who she had now grown into. Art, design, love and family life had taken her to a place she could never have anticipated. The death of her beloved husband and the fundamental changes that brought about made her evolution both poignant and creative.
Pro Bono work in India added another dimension to the future work that she had in her head. The addition of a camera was the piece of equipment that changed the focus of her work. This represented for Laurel her return to making art with images. Although expressed with photos, it is not about photography. The use of line in the foreground defines a plane between image and viewer, suggesting a story that unfolds slowly. It is a pause, an elongated moment, a gesture intended to slow down time.
Laurel Marx is interested in a reality, an essence, captured in fragments evanescent and magical. The beauty of natural light – its nuance and shadow, each defining the other – is a recurrent theme, as instants of wonder are infinite.
The summer of 2017 in Soller has seen Lauren prepare for the exhibition of her own new works. The Museum of Soller was the place she wanted the first showing to be before taking it all back to New York for a major exhibition. Soller is the place where so much creativity was injected and the place that is in her heart in the beautiful bustling days of New York life. The exhibition simply could start no-where else. It reflects the fact that Light needs Shadow and that is the title of the show.
The Museum of Soller is hidden in the narrow end of the Carrer De Sa Mar, in Soller at number 13. Walk towards the Post Office froom Soller and take a right turn down the street to find it. This exhibition runs from 1st to 9th September 2017 from 10.00 am to 2 pm. The limited duration of the exhibition is because the works will be packed and shipped off to New York for the second showing of this important artistic contribution. The art world is very excited about Laurel Marx and her debut of these exquisite pieces of work. There are 16 in all and a few have already been reserved. The Museum is open from 10 am to 2 pm each day and welcomes you to see the art work and the many other exhibits in this most interesting place.
Laurel Marx is Solleric both in language and understanding of what the Soller world stands for. Art and creativity thrives in this place and has given the world much of which to be proud. She is very excited to be able to share this new part of her artistic life with you and is grateful that you have taken the time today to read all about her and work. She welcomes you to her exhibition at the Museum of Soller.
More information can be found on